Hello and welcome to UBC Engineering! The Engineering Undergraduate Society (EUS) is delighted to invite you to our community of nearly 5000 undergraduate students. Your friends at the EUS have spent the whole summer planning 2 weeks of events geared towards welcoming all of you! Week E0 is the second best week of the year*, and is a great time to meet some of your peers, talk to upper-years, get to know campus, and help you find your niche at UBC.*after E-Week, of course.
E-Retreat
A fun-dense weekend with your new pals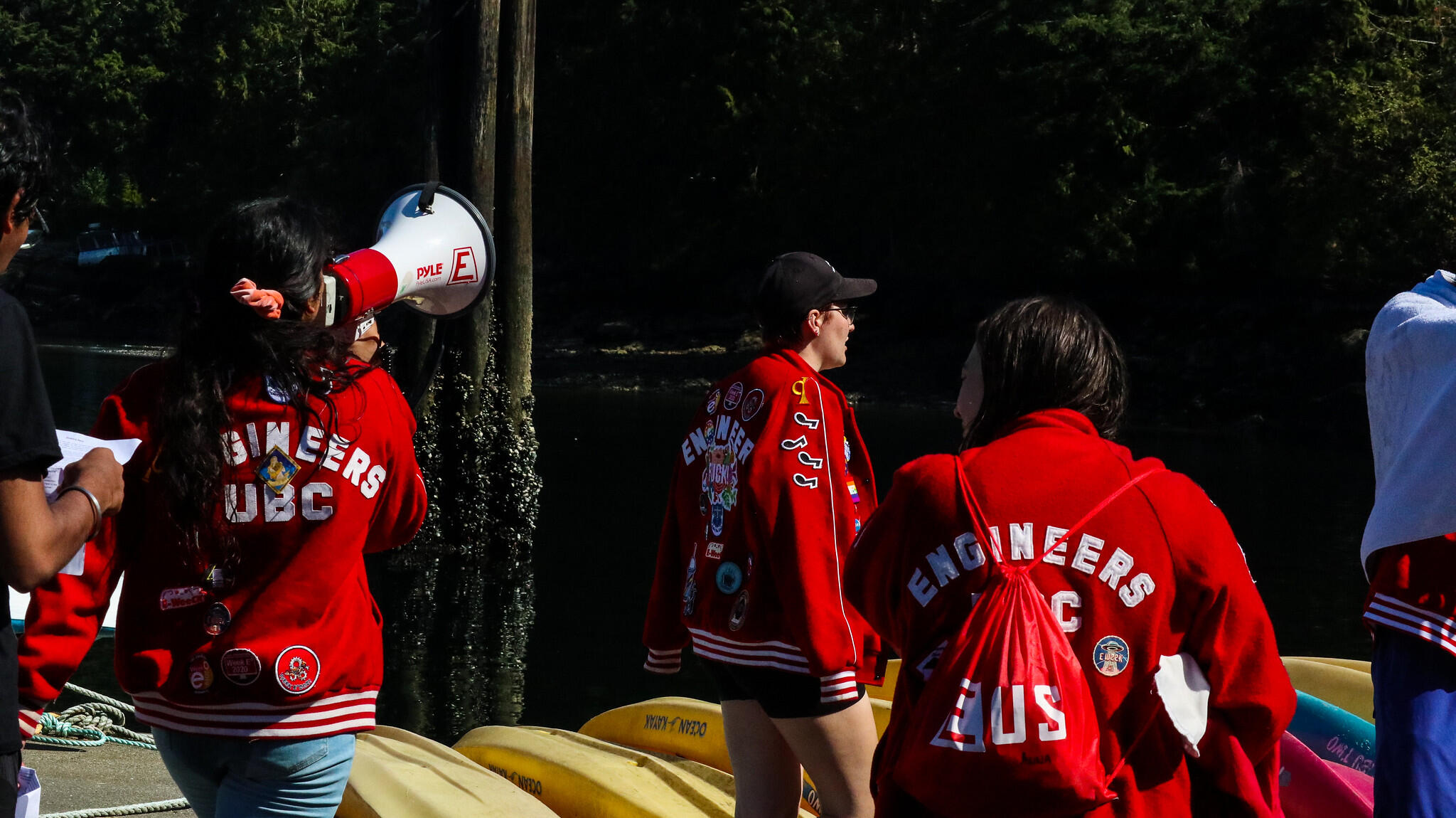 | WHEN | WHERE | HOW MUCH |
| --- | --- | --- |
| September 9 at 5 PM to September 11 at 4 PM | Camp Latona, Gambier Island | $130 per person, all included |
After a week of fun on campus, we go on retreat! Probably the best part of being a first year — seriously. 2-days-2-nights of students-only fun. Take some time to hang out, as well as participate in organized events!Come with an open mind and it'll be the experience of a lifetime. Bond with new friends, hear stories from the older students (the volunteers), and learn more about how to get involved. E-Retreat 2022 will be located on Gambier Island, at Camp Latona!
After one fun-filled week of on-campus activities, it's off to the woods we go! This weekend gives you the chance to really bond with your peers, hear stories about the years of EUS past, and find out how to get involved!From September 9-11 we'll be on Gambier Island at Camp Latona for the ultimate student-only weekend. You can hang out or follow along with our organized events! Here's some of the things E-Retreat will have to offer: Ropes courses, True Engineer, Kayaking, Swimming, Board and Card Games, Bonfires, Gambier Island, Murder Mystery Tankings, Shameless Pride in Engineering, The traditional hike!ARE YOU EXCITED? Don't worry, we know you are. We have a limited amount of spots available, so be sure to get your tickets ASAP!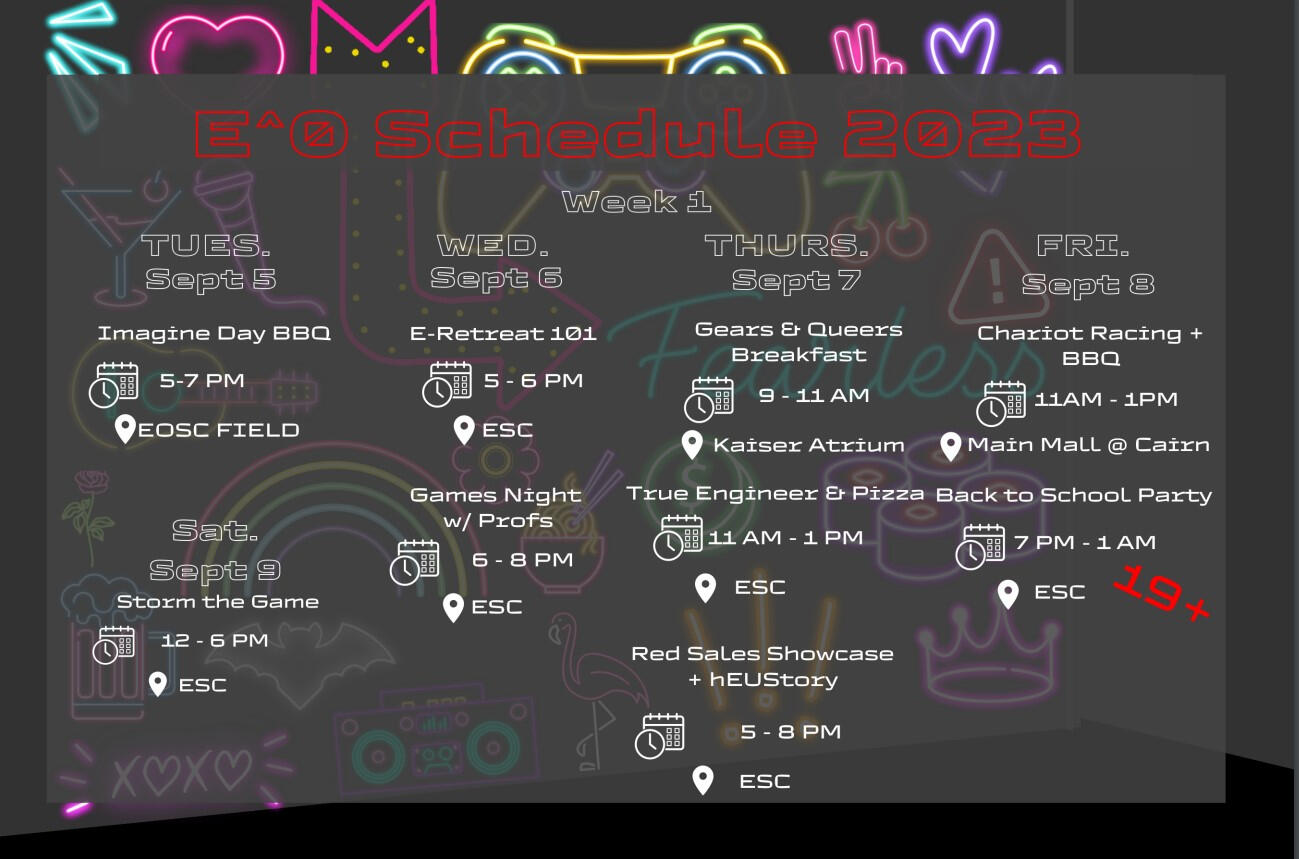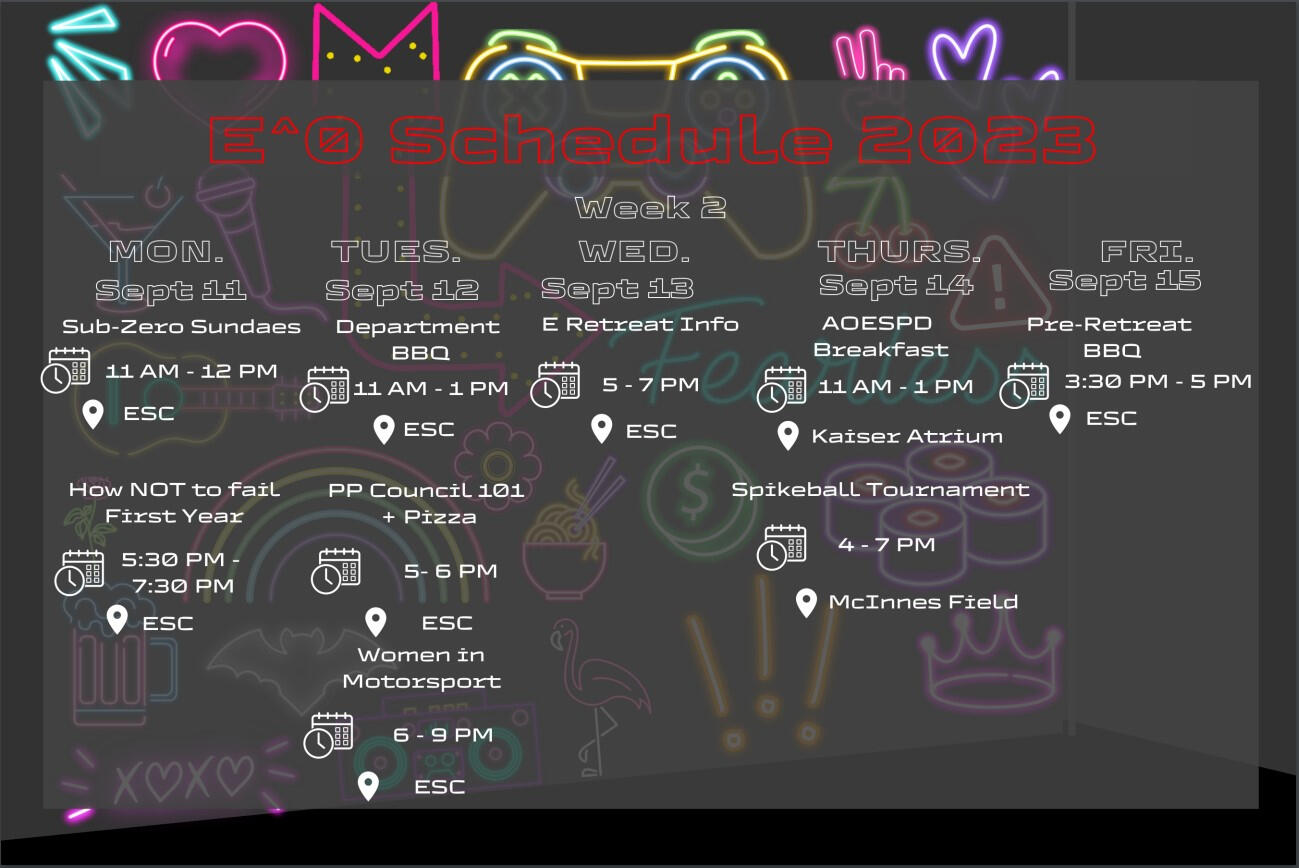 Check out more detailed event descriptions.
| Event | Time | Place |
| --- | --- | --- |
| Imagine Day BBQ | Tuesday, September 6, 4PM - 6PM | EOSC Field |
| Department BBQ | Wednesday, September 7, 11AM - 1PM | Engineering Student Centre Courtyard |
| E-Retreat 101 - The Guide to the Best Weekend Ever | Wednesday, September 7, 4PM - 5PM | Engineering Student Centre |
| Games Night with Profs | Wednesday, September 7, 5PM - 8PM | Engineering Student Centre |
| Chariot Racing and Barbeque | Thursday, September 8, 11AM - 1PM | Main Mall, near the Engineering Cairn |
| Red Sales Showcase | Thursday, September 8, 4PM - 5PM | Place: Engineering Student Centre |
| hEUStory | Thursday, September 8, 5PM - 7PM | Place: Engineering Student Centre |
| Pre-Retreat BBQ | Friday, September 9, 4PM - 5PM | Place: Engineering Student Centre* |
| AOESPD First Year Social | Friday, September 9, 6PM - 8PM | Engineering Student Centre |
| E-Retreat | Friday, September 9 @ 5PM - Sunday, September 11 @ 4PM | Camp Latona |
| AOESPD Game Night | Tuesday, September 13, 6PM - 10PM | ESC |
| PP Council Info Session | Wednesday, September 14, 4PM - 5PM | Engineering Student Centre |
| AUS x EUS Dodgeball Tourney & BBQ | Wednesday, September 14, 5PM - 7PM | MacInnes Field |
| True Engineer and Pizza | Thursday, September 15, 11AM - 1PM | Engineering Student Centre |
| Event | Time | Place | Description |
| --- | --- | --- | --- |
| Imagine Day BBQ | Tuesday, September 6, 4PM - 6PM | EOSC Field | Kicking off the week with a MASSIVE barbeque! Now, what's even better than a nice summer barbeque? When it's free! Come on down to the EOSC Field after Imagine Day to eat, socialize, and listen to our wonderful Godiva Band play some hits. |
| Department BBQ | Wednesday, September 7, 11AM - 1PM | Engineering Student Centre Courtyard | Even more BBQ?? Our second week is bringing you another glorious free barbecue where you can learn all about the UBC Engineering Departments! |
| E-Retreat 101 - The Guide to the Best Weekend Ever | Wednesday, September 7, 4PM - 5PM | Engineering Student Centre | Want the chance to explore nature, bond with your fellow first years, and have one last wild weekend before school really ramps up? Well then E-Retreat is the event for you. Out on Gambier Island, Camp Latona offers an epic adventure during the second weekend of school. Come chat with your EUS volunteers about the best weekend ever and hear about everything you need to know about E-Retreat! |
| Games Night with Profs | Wednesday, September 7, 5PM - 8PM | Engineering Student Centre | Your professors (believe it or not) are people. And they, too, enjoy playing games. We've got first year professors, department heads, and plenty of other amazing people who have all of the knowledge to share. We will be hosting a variety of board and card games, and did we mention free food? Grab some classic Week E0 burgers and other snacks when you swing by the ESC to hang out with your peers, EUS volunteers, and some of the UBC Engineering Faculty as well! |
| Chariot Racing and Barbeque | Thursday, September 8, 11AM - 1PM | Main Mall, near the Engineering Cairn | Chariot racing is one of our oldest traditions here at UBC Engineering, and you'll see it during the Best Week of the Year, E-Week! Departments make their own chariot to race against the others and prove that they're the best engineering department. Now is your time to train! Grab a burger, grab some friends, hop in a chariot, and race for prizes! |
| Red Sales Showcase | Thursday, September 8, 4PM - 5PM | Engineering Student Centre | UBC Bookstore? More like UBC BookSNORE! The coolest spot to shop on campus is Red Sales at the ESC, where you can pick up a variety of official EUS merch. Do you ever get tired of telling non-Engineering students how much better than them you are? Well, with an official UBC Engineering Red, you can flaunt your 7 courses (and a lab) workload without saying a single word! For the low price of about two first-year textbooks, you can get your very own UBC Red! It has buttons! (wow!) It has pockets! (cool!) It has ample room to attach pins and patches! (sewing skills not included!) Stop by to browse, buy or just say 'hi'. With our assortment of t-shirts, sweaters and accessories there's sure to be something for everyone. TL;DR - buy Red jackets and other engineering merch |
| hEUStory | Thursday, September 8, 5PM - 7PM | Engineering Student Centre | Do you think Godiva is just a brand of chocolate? Or that Cheeze is just a delicious dairy product? Then join us for hEUStory, a fun-filled night of edu-tainment with everything you need to know about the non-academic side of UBC Engineering. We'll be sharing stories of wild pranks that may or may not be associated with the faculty and Engineering vocabulary they don't teach in APSC 100. Learn about our traditional events, how they started, what the EUS used to be and what it could become. TL; DR - Presentation on history of EUS at UBC |
| Pre-Retreat BBQ | Friday, September 9, 4PM - 5PM | Place: Engineering Student Centre | Going on E-Retreat? Show up early and get free food! |
| AOESPD First Year Social | Friday, September 9, 6PM - 8PM | Engineering Student Centre | Hosted by Alpha Omega Epsilon and Sigma Phi Delta, join us in the evening for some free food and learn about their organizations! |
| E-Retreat | Friday, September 9 @ 5PM - Sunday, September 11 @ 4PM | Place: Camp Latona | Come to our info session to find out more! End time is approximate. |
| PP Council Info Session | Wednesday, September 14, 4PM - 5PM | Engineering Student Centre | Information on how to run for PP (first-year) council, as well as more background on what it is. I have run out of jokes. There are no more jokes. |
| True Engineer and Pizza | Wednesday, September 14, 11AM - 1PM | Engineering Student Centre | A true engineer can solve any engineering problem with the materials in front of them. Even if the materials you're given are typically used in arts & crafts. Come on down for some healthy team competition and some (not-so) healthy pizza! There will be prizes! |
| AUS x EUS Dodgeball Tourney & BBQ | Thursday, September 15, 5PM - 7:30PM | MacInnes Field | Everybody loves a crossover! Assemble your team, or make some new friends and join us for a friendly game of dodgeball against Arts students. Don't forget to grab some of the finest food we can barbeque that our Vancouver Coastal Health permit permits! |